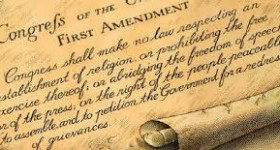 Demand Key House Committee Take Action to Pass the First Amendment Defense Act
| | |
| --- | --- |
| Target Name | Target Organization |
| House Committee on Government Oversight and Reform | (US House of Representatives) |
The critical First Amendment Defense Act has been languishing in Congress for over 11 months now even though it enjoys wide spread support. But thanks to thousands of you, the bill is starting to move.
Next Tuesday, July 12th, the House Committee on Oversight and Government Reform (OGR), chaired by Representative Jason Chaffetz (R-Utah), will hold a hearing on the First Amendment Defense Act (FADA).
That this hearing has been scheduled is a testament to your hard work, and the efforts of countless other supporters and allies, who have kept up pressure on the OGR committee and its chairman to ensure this bill gets the attention it deserved. Over 100,000 faxes were furnished to members of the OGR committee from concerned citizens through our Fax for FADA program—and it worked!
Now, we need to move on to the next steps. It is critical that the OGR committee take the additional action of marking up this bill so that it can be sent to the House floor for a vote.
So, I am asking you to do two things today:
Sign our petition urging OGR to mark up FADA; and then,
Call the committee and its GOP members to voice your support for this critical bill.
FADA enjoys wide support in Congress: there are 171 co-sponsors, 23 of whom are on the OGR committee. We need to push now so that the OGR members take action and don't delay the full floor debate and vote that this important legislation requires.
We need to collect as many signatures as we can, as quickly as possible, and deliver them to the OGR committee so that they can see the wide support that religious liberty and the protection of our First Amendment rights enjoys among the American people.
Even if you participated in the Fax for FADA campaign, it is imperative that you add your signature to this petition today urging that the OGR takes additional action on this bill and marks it up so that it can be put before the House for a vote.
After you've signed the petition, please take the additional step of calling the committee office and as many of the committee members as possible notifying them of your support for FADA and your demand that the bill be marked up as soon as possible. Let's keep that line busy!
You can use the language of the petition as your talking points for your call. Thank you.
| | |
| --- | --- |
| OGR Committee Office | 202-225-5074 |
| Jason Chaffetz (R-03) UT (Chairman) | 202-225-7751 |
| Justin Amash (R-03) MI | 202-225-3831 |
| Rod Blum (R-01) IA | 202-225-2911 |
| Ken Buck (R-04) CO | 202-225-4676 |
| Buddy Carter (R-01) GA | 202-225-5831 |
| Ron DeSantis (R-06) FL | 202-225-2706 |
| Scott DesJarlais (R-04) TN | 202-225-6831 |
| John J. Duncan, Jr. (R-02) TN | 202-225-5435 |
| Blake Farenthold (R-27) TX | 202-225-7742 |
| Paul A. Gosar (R-04) AZ | 202-225-2315 |
| Trey Gowdy (R-04) SC | 202-225-6030 |
| Glenn Grothman (R-06) WI | 202-225-2476 |
| Jody Hice (R-10) GA | 202-225-4101 |
| Will Hurd (R-23) TX | 202-225-4511 |
| Jim Jordan (R-04) OH | 202-225-2676 |
| Cynthia Lummis (R-ALL) WY | 202-225-2311 |
| Thomas Massie (R-04) KY | 202-225-3465 |
| Mark Meadows (R-11) NC | 202-225-6401 |
| John L. Mica (R-07) FL | 202-225-4035 |
| Mick Mulvaney (R-05) SC | 202-225-5501 |
| Gary Palmer (R-06) AL | 202-225-4921 |
| Steve Russell (R-05) OK | 202-225-2132 |
| Michael R. Turner (R-10) OH | 202-225-6465 |
| Tim Walberg (R-07) MI | 202-225-6276 |
| Mark Walker (R-06) NC | 202-225-3065 |
The Petition
Support and Mark Up the First Amendment Defense Act
Dear Chairman Chaffetz and members of the House Committee on Goverment Oversight and Reform,
It has come to my attention that Tuesday July 12th you will hold a hearing on the critical First Amendment Defense Act. Thank you for acting on this important peice of legislation. However I urge you to take the extra step and mark-up the bill so that it can pass to the whole House for consideration and to do this before Congress goes into recess.
This legislation is a top national priority for Christians and other people of faith to protect our right not to be coerced by the federal government to abandon our deeply-held views about marriage and be forced to participate in a same-sex ceremony that violates our religious beliefs.
It's been eleven months since Sen. Mike Lee and Rep. Raul Labrador introduced the First Amendment Defense Act (FADA) protecting the right of Christians and people of faith to live out the truth of marriage in their daily lives and at work without fear of being punished for doing so by the federal government. Over two hundred members of Congress have added their names as co-sponsors of the legislation (S. 1598/HR 2802).
But while the bill has languished in Congress all across the country, individuals and small businesses have been victimized by LGBT extremists who demand that everyone regardless of personal views must participate in a same-sex wedding ceremony whenever asked or face ruinous actions by the government. People and groups have been fined, fired, been put out of business and seen their reputations ruined – all because they personally do not want to be involved in something they consider to be morally wrong.
That's why I'm urging you to go beyond just a hearing and to mark up the First Amendment Defense Act so that it can pass to the whole House before Congress goes into recess.
Thank you.