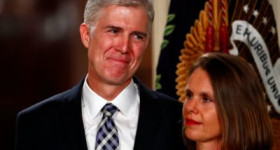 Urge Senators Cantwell and Murray to Confirm Justice Gorsuch
| | |
| --- | --- |
| Target Name | Target Organization |
| Senator Maria Cantwell | (U.S. Senate) |
| Patty Murray | (U.S. Senate) |
Yesterday, President Trump nominated Neil Gorsuch, from the 10th Circuit Appellate Court, to fill the vacancy left by Justice Scalia's death on the Supreme Court.
Of note for voters in Washington State, both of our U.S. Senators, Patty Murray and Maria Cantwell, voted for to confirm Judge Gorsuch when he was appointed to the Court of Appeals.
According to the White House Press release announcing the pick, "Judge Gorsuch is a brilliant jurist with an outstanding intellect and a clear, incisive writing style. He is universally respected for his integrity, fairness, and decency. And he understands the role of judges is to interpret the law, not impose their own policy preferences, priorities, or ideologies."
We support the nomination of Judge Gorsuch to the Supreme Court and urge his timely confirmation.
Judge Gorsuch's record shows that he will not engage in judicial activism, and will seek to interpret the law as it is not as he wishes it to be. That principle is fundamental to the rule of law and abandonment of that principle is at the root of the "right to abortion" the Court found in Roe v. Wade, and the "right to same-sex marriage" the Court found in Obergefell.
His record also indicates that he values the sanctity of human life. He authored a book that provides a keen legal and moral analysis of assisted suicide, concluding that "human beings are intrinsically valuable…and the intentional taking of human life by private persons is always wrong."
Judge Gorsuch's judicial record shows that he values the rights of individuals against government action that would force them to violate their beliefs. In two prominent cases, Hobby Lobby and Little Sisters of the Poor, Judge Gorsuch ruled against attempts by the federal government to compel people to purchase forms of contraceptives that violated their beliefs.
President Trump campaigned on a promise to appoint justices in the mold of Justice Scalia and this pick is widely thought to be a fulfillment of that commitment.
We urge you to sign the petition urging Senators Cantwell and Murray to reaffirm their support for Justice Gorsuch and confirm him for the Supreme Court of the United States.
The Petition
Please Vote to Confirm Justice Gorsuch
Dear Senator,
Thank you for your service to Washington State. I am writing to urge you to support the nomination of Justice Gorsuch to the Supreme Court of the United States. As you you know by your own support of Justice Gorsuch when he was elevated to the 10th Circuit Court of Appeals, he is emminently qualified to sit on the Supreme Court.
Justice Gorsuch's academic and professional qualifications are without equal and his approach to jurisprudence is supported by peers on both sides of the aisle.
As the liberal jurist Neal Katyal opined in the New York Times, "But I have seen him up close and in action, both in court and on the Federal Appellate Rules Committee (where both of us serve); he brings a sense of fairness and decency to the job, and a temperament that suits the nation's highest court."
Conservative scholar Robbie George remarked in the Washington Post, "Gorsuch and I have worked together on academic projects, ...Gorsuch went the extra mile in ensuring that his treatment of the work of other writers — especially those with whom he disagrees — was sympathetic and impeccably accurate. His sheer fair-mindedness was the thing I found most striking about working with him."
I urge you to see beyond the rhetoric that is sure to attempt to smear Justice Gorsuch and rather see him for the man and jurist he is.
Thank you.