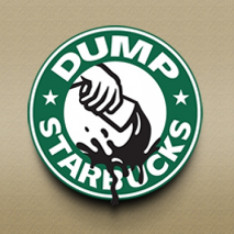 About Dump Starbucks
We are urging customers across the globe to 'Dump Starbucks' because it has taken a corporate-wide position that the definition of marriage between one man and one woman should be eliminated and that same-sex marriage should become equally 'normal'. As such, Starbucks has deeply offended at least half its US customers, and the vast majority of its international customers.
Starbucks also used its resources to participate in a legal case seeking to overturn a federal law declaring marriage as the union of one man and one woman. A portion of every cup of coffee purchased at a Starbucks anywhere in the world goes to fund this corporate assault on marriage.
We urge consumers across the globe to join the 'Dump Starbucks' campaign.
SHOW YOUR SUPPORT
Be a Supporter

In a couple simple steps you can support this candidate.

You are listed as a supporter for:
Dump Starbucks

Tweet It

Show strength in numbers by using the power of social media

Recruit Friends

In a few clicks you can help get your cause be supported.