International Organization for the Family
Uniting and Equipping Leaders Worldwide to Promote the Natural Family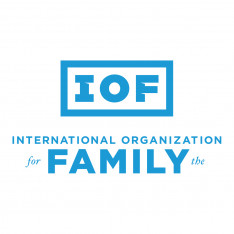 About International Organization for the Family
The International Organization for the Family (IOF) unites and equips leaders worldwide that promote the natural family, marriage, and children.
IOF affirms the natural family as the fundamental and sustainable unit of society, protects all human rights as defined in the Universal Declaration of Human Rights (United Nations, 1948), and defends the sanctity and dignity of life and all human persons from conception to natural death.
SHOW YOUR SUPPORT
Be a Supporter

In a couple simple steps you can support this candidate.

You are listed as a supporter for:
International Organization for the Family

Tweet It

Show strength in numbers by using the power of social media

Recruit Friends

In a few clicks you can help get your cause be supported.