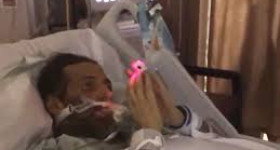 Texas 'Death Panel' Rules Conscious Patient Must Die
| | |
| --- | --- |
| Target Name | Target Organization |
| Houston Methodist Hospital | (Hostpital) |
A bioethics committee at Houston's Methodist Hospital has ruled that a patient's life support treatment should be ended, despite the fact that the patient has consciously expressed the desire to live and continue receiving support. According to Breitbart:
Dunn is a former sheriff's deputy and has worked as a Homeland Security officer but had no health insurance when he got sick. He has been in the hospital for eight weeks since a noncancerous mass was found where his small intestine connects to the pancreas. Ms. Kelly says the mass is squeezing off the small intestine and is affecting his liver and kidneys.
Dunn's mother believes that decision was influenced by the fact that Dunn has no health insurance. Texas is one of the few states that allows a panel to determine the life and death of patients when there is disagreement between the patient's physician and their family or the patients themselves. Under Texas law, if an attending physician refuses to honor a patient's requests for care or an advance directive, that decision then goes before an ethics or medical committee.
Dunn's lawer believes that the Texas statute denies a patient all due process rights and is unconstitutional. "A criminal on death row in Texas has more rights than a patient in a Texas hospital" he said.
A Harris County judge has granted two consecutive two-week extensions thus far, but Houston Methodist Hospital has countered these interventions with additional court filings to remove Chris's mother from the process. His mother, Evelyn, has been vigilant in protecting Chris since he is intermittently sedated.
Please sign the petition to let Chris live!
The Petition
Help Chris See Christmas!
It's an outrageous scandal that any patient that can consciously communicate their desire to live should be forcibly removed from life-giving medical support by a committee. Hospitals should not have the final say on matters of life and death over and against the wishes of patients, especially patients who are still conscious and desiring to live. We demand that this secret and unaccountable decision making by a bureaucractic committee--obviously motivated by its own financial interest--be reversed immediately so that Christopher Dunn can continue to live.