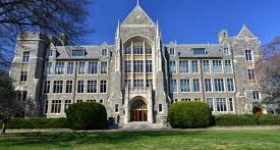 Urge Georgetown University to Rescind Planned Parenthood Speaking Engagement
| | |
| --- | --- |
| Target Name | Target Organization |
| Joseph A. Ferrara | (Chief of Staff to the President) |
A week ago it became public that Georgetown University's student-run Lecture Fund invited Planned Parenthood Federation of America's President, Cecile Richards, to speak on campus this April. It is completely antithetical to Georgetown's roots and identity as our nation's oldest Catholic university to allow a person responsible for the deaths of over 2.8 million babies to have the opportunity to spread her anti-life program on the Georgetown campus.
Georgetown shouldn't give the President of the nation's largest abortion provider an unopposed platform, while remaining silent about the part Cecile Richards plays in the genocide of the unborn. Would Georgetown allow other unrepentant human rights abusers to address their students without opposition? Can you imagine the uproar if Georgetown hosted genocidal leaders like Yugoslavia's Slobodan Miloševi? or Sudan's Omar al-Bashir to speak on campus?
Patrick Reilly, president of the Cardinal Newman Society (a non-profit dedicated to the true tenets of a Catholic education) argues that "this is the latest in a long history of scandal at Georgetown University."
Reilly goes on, "Disguised as an academic event, this is nothing more than a platform for abortion advocacy at a Catholic university and under the nose of the Catholic bishops, featuring a wicked woman who defends the sale of baby body parts and is responsible for the deaths of millions of aborted children."
Cecile Richards should not be invited to freely discuss her dangerous ideas at a Catholic university sanctioned event.
As Cardinal Napier of South Africa explained on twitter, "If there's a crisis in the Catholic Church today, it's the disjuncture between the imperative to live & teach the Gospel & the obsession to be fair & broadminded on moral & critical life issues. Georgetown's hosting Cecile Richards is an obvious case!"
Join in calling on Georgetown to formally rescind the invitation to Cecil Richards and restore the university's Catholic identity and fidelity.
The Petition
Rescind Invitation to Planned Parenthood
I join in calling on Georgetown University to uphold its Catholic identity and commitment to human dignity by rescinding the Lecture Fund's invitation to Planned Parenthood President Cecile Richards to speak on campus in April.
The Planned Parenthood Federation of America (PPFA) is America's leading agent of the culture of death, promoting and selling abortion and contraception and even selling the parts of aborted babies. As the chief executive of PPFA and the Planned Parenthood Action Fund, Richards formally cooperates in these activities and promotes positions and activism that directly contradict Catholic teaching on the dignity of human life and on human sexuality. According to PPFA's records of "abortion services" disclosed in annual reports, Richards has overseen the deaths of more than 2.8 million babies since taking charge of the organization in 2006.
It is shameful that Georgetown University would defend the Lecture Fund's invitation to this horrific speaker. There is no academic freedom that can justify the willful denial of basic truths and advocacy for gruesome crimes against humanity.
We call on Georgetown University to restore the Catholic identity and fidelity that once were the foundation of America's oldest Catholic university, but which have been diminished and even scorned in recent decades. May Georgetown once again be a beacon of light for students seeking truth in the Light of Christ.