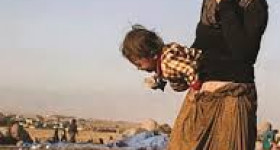 Declare ISIS' Terror Genocide
| | |
| --- | --- |
| Target Name | Target Organization |
| Secretary John Kerry | (Dave Wallace for US Senate) |
For two years, ISIS has been terrorizing Christians and other religious minorities in Syria and Iraq. In one week (March 17th), Secretary of State John Kerry will have to tell Congress whether the United States will officially label ISIS' actions a "genocide." Pledge support for Coptic Christians, Yazidis and other religious minority groups, being viciously slaughtered by ISIS.
The Petition
Condemn and Prosecute ISIS for Genocide against Christians, and other Religous Minority Groups
Senator Ron Johnson (R-WY) has introduced Senate Resolution 310 which passed the Senate. Rep. Trent Franks (R-AZ-8) and Jackie Speier (D-CA-14) have introduced House Resolution 447.These bi-partisan resolutions attempt to officially condemn the violence against women and children from Yazidi, Christian and other religious communities as crimes against humanity, and compel the Attorney General to investigate and prosecute any U.S. citizen involved with ISIS.