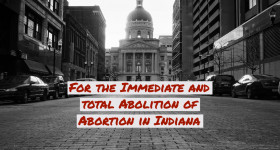 Abolish Abortion in Indiana
| | |
| --- | --- |
| Target Name | Target Organization |
| Brian Bosma | (Indiana General Assembly) |
For the last three years in a row legislation has been proposed in the Indiana House of Representatives that would have made abortion illegal full stop, with no exceptions. Unfortunately, the leadership of the pro life Republican Party in Indiana has repeatedly killed that legislation in committee without even allowing it to have a hearing.
It's time for the citizens of Indiana to hold these pro life legislatures accountable, and demand that they work for the full and immediate abolition of abortion, without exceptions, right now.
Sign the petition below and make your voice heard! Let Republican leadership in Indiana know that you want abortion to be abolished right now!

(Sponsored by Abolish Abortion Indiana)
The Petition
Abolish Abortion In Indiana
WHEREAS: INDIANA CODE ALREADY ACKNOWLEDGES, "THAT HUMAN PHYSICAL LIFE BEGINS WHEN A HUMAN OVUM IS FERTILIZED BY A HUMAN SPERM." IC 16-34-2-1.1
WHEREAS: THE INTENTIONAL DESTRUCTION OF HUMAN LIFE IS MURDER.
WHEREAS: EVERY DAY AS MANY AS 22 BABIES ARE MURDERED IN THEIR MOTHER'S WOMB IN INDIANA
WHEREAS: INDIANA HAS AN OBLIGATION UNDER ITS OWN LAWS TO PROTECT THESE PRE BORN BABIES.
THEREFORE: I URGE YOU TO USE ALL OF THE AUTHORITY AND INFLUENCE OF YOUR POSITION TO PASS THE PROTECTION AT CONCEPTION ACT, AND ABOLISH THE MURDER OF PRE BORN BABIES!