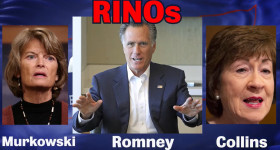 Romney Must Resign
| | |
| --- | --- |
| Target Name | Target Organization |
| Romney COS | (U.S. Senate) |
The Petition
Senator Mitt Romney
United States Senate
124 Russell Senate
Office Building
Washington, DC 20510
Delivery Via Email
Dear Senator Romney,
You say that you voted to convict President Trump and remove him from office to honor your deep religious conscience. If conscience is your guide, you must resign from office and allow the people of Utah to revisit who they want to represent them in the United States Senate.
When you ran for the US Senate, after failing to get the nod to be President Trump's Secretary of State, you promised the people of Utah that you would be a principled conservative Republican and a supporter of President Trump. You not only gladly accepted the support of President Trump in your Senate campaign, you celebrated and touted it as evidence that you would be a trusted conservative in Washington. The voters of Utah trusted in your word.
Unfortunately, by your vote to convict President Trump and remove him from office and from the 2020 ballot, you have violated the trust that voters put in you. Your vote would bring to an end the era of prosperity and security that President Trump's conservative policies have meant for our country. Moreover, your vote imperils the political future of several of your GOP Senate colleagues who are in tough reelection races, making it easier for Democrats to take over the Senate and retain control of the House of Representatives.
This violation of trust is unacceptable. If you claim an adherence to religious conscience, then you must demonstrate this by resigning from the Senate and give the people of Utah an opportunity to decide who they want to represent them in the Senate going forward. You can run in the open seat your resignation would create if you wish, but you'd do so with voters having full knowledge that you are not the trusted conservative you promised them in 2018 you would be. That is the only honorable course of action at this point.
I urge you to resign from the US Senate immediately.